Woman's Heritage Walk, Mumbai, Pune
Cherishing the past to inform
our best future
Maharashtra is a state in Western India known for its diverse culture, history, and natural beauty. It is home to the bustling city of Mumbai, the ancient Ajanta and Ellora caves, and the famous hill stations of Lonavala and Mahabaleshwar. Maharashtra is also known for its rich cuisine, including popular dishes, such as vada pav, pav bhaji, and misal pav. Additionally, Maharashtra is the birthplace of many social reformers and freedom fighters, including Mahatma Gandhi, Dr. B.R. Ambedkar, and Bal Gangadhar Tilak. The state has a unique blend of traditional and modern culture, making it a fascinating and vibrant place to visit.
Maharashtra is a state located in the Western Region of India. It is the second-most populated state and third-largest state by area.
The capital of Maharashtra is Mumbai, which is also the financial and entertainment capital of India.
Maharashtra has a rich history and cultural heritage, with influences from various empires and dynasties that have ruled the region over the centuries.
The state is also known for its rich history and culture, which can be experienced through its temples, forts, and other heritage sites such as the Elephanta Caves, Ajanta and Ellora caves, and the Chhatrapati Shivaji Maharaj Vastu Sangrahalaya Museum.
Maharashtra is also an important industrial and agricultural state, with major industries including textiles, engineering, and information technology.
The state is also known for its vibrant Marathi culture, which includes traditional dance forms such as Lavani and Bhavageete, and festivals such as Ganesh Chaturthi and Diwali.
Pune is located near the Western Ghats, a mountain range that is known for its biodiversity and scenic beauty.
It is home to several prestigious educational institutions such as the University of Pune and the Indian Institute of Science Education and Research.
Pune is also known as the "Oxford of the East" due to the large number of students who come to study at its universities and colleges.
Known for its vibrant nightlife, Pune is famous for its street food and local cuisine.
Pune was once the center of power for the Maratha Empire, and the city is home to several historic forts, such as the Shaniwar Wada and the Sinhagad Fort.
Pune is also known for its proximity to hill stations such as Lonavala and Khandala, which are popular tourist destinations.
The city is also a major hub for the automobile, IT, and manufacturing industries.
Pune has a rich history and culture which can be experienced through its museums, temples, and other heritage sites.
During the British Raj, women in Pune were among the first in India to participate in the freedom struggle and to demand equal rights.
Pune was also home to several prominent women leaders such as Tarabai Shinde, the first woman to write a feminist text in Marathi, and Anandibai Joshi, one of the first Indian women to obtain a medical degree.
In the early 20th century, Pune was a center of social reform movements, including the women's education and suffrage movements.
Women's organizations such as the Poona Women's Social and Political Union, which was founded in 1911, played a significant role in advocating for women's rights and education.
It was the birthplace of the Indian Women's University, established in 1916, and was the first university in India to be exclusively for women.
Today, Pune continues to be a city where women are actively engaged in various fields, and the city has a high percentage of women participating in the workforce.
Walks in and around:
Koregaon Park

Osho Park




Sarsbaug Gardens

Parvati Hill

Sinhagad Fort

Tekdi

Bhaje and Karle Caves

 
Historical Visits to:
Zapurza Museum

Pune University
Tata Motors
Iyengar Institute for Yoga
Karve Stree Shikshan Sanstha
Bhaje and Karle Caves
Indian Classical Dance
Kaivalyadham Yoga Institute
Lectures by Experts on:
Women and Hinduism
History of India
Renowned Women of Pune
Ayurveda
Indian Classical Dance
Traditional Indian Diet
Iyengar Yoga
Each Walking Adventure Varies but is Deeply Infused With Culture and Heritage, Mentally and Physically Challenging, and Creating a Global Sisterhood Within a Wellness Community, Teaching us Respect and Empathy.
12 Weeks of Wellness Training
Weekly Wellness Prompts
6 Zoom Meetings That Reinforce Bi-Weekly Goals and Create Special Bonds Even Before We Meet Face to Face. It is Also Time for Questions and Answers or Contemplations.
All Meals and Lodging
1 Hour of Wellness Coaching
Support of the WHW Team of Organizers
Event T-shirt
Celebrations Of Success
Lifetime Membership in a Unique and Supportive Group of Adventurous Women

Visits to Historical Sites Dating Back to 2200 Years, Prestigious Institutions That Pioneered G

irls

 Education, and Women's Empowerment; Oldest Institute of Yoga and an all Women Ran Automobile Plant of The 21

st

 Century Among Others.
What will be the weather during our journey?
The weather in Pune, India in February is very pleasant. 
Pune, India is located in the western part of the country and has a tropical wet and dry climate. February falls in the post-monsoon season, which is considered the winter season. In general, the weather in Pune in February is relatively cool and pleasant, with daytime temperatures averaging around 25-28°C (77-82°F) and nighttime temperatures around 12-15°C (54-59°F).
Rainfall is relatively low in February, but there may be occasional light rain or drizzle. Humidity is also relatively low during this time of year. The sky is usually clear, and the sun is usually shining, with occasional clouds.
It's a good time to visit Pune as the temperature is mild and the weather is not too hot or too cold, making it perfect for sightseeing and outdoor activities.
What should I bring, how should I pack for such a journey?
Here is a list of essentials that you should bring and how to pack for a journey in Bhutan in October:
Pack comfortable and breathable clothing that can be layered, including a waterproof jacket, a sun hat. In keeping with cultural standards, please ensure your shoulders and knees are covered. Dress modestly.
Footwear: Pack a sturdy and comfortable pair of hiking boots or shoes with good grip and support. Also, pack a pair of lightweight sandals or shoes.
Food: Pack high-energy snacks such as nuts, dried fruits, and protein bars
First-Aid Kit: Pack a comprehensive first-aid kit, including bandages, pain relievers, anti-inflammatory, and antibiotic ointment. Hand carry any medications
Personal Hygiene Items: Pack personal hygiene items such as a toothbrush, toothpaste, wet wipes, and hand sanitizer.
Sun Protection: Pack a wide brim hat, sunglasses, sunscreen, and lip balm.
Copies of Your Passport and Visa.
Journal: Don't forget it!
A Resilient and Kind Attitude!
What is the food like? Will it be vegetarian or non-vegetarian?
Meals will include traditional cuisine from the Pune region which will accommodate most varied preferences.
Pune, India is known for its diverse and delicious food culture. Here are some classic dishes from the Pune region that you should try:
Misal Pav: This is a popular breakfast dish made with a spicy mixture of sprouted lentils, known as "misal," served with pav (a type of bread roll) and topped with a variety of chutneys, yogurt, and farsan (a type of fried snack).
Vada Pav: A popular street food dish that consists of a deep-fried potato patty called vada served in a pav (bread roll) with a variety of chutneys and spices.
Kothimbir Vadi: A traditional Maharashtrian snack made from gram flour and coriander leaves. It is steamed, cut into small squares, and fried.
Pithla Bhakri: A staple dish from the region made of a thick chickpea flour-based curry, known as "pithla," served with bhakri (a type of bread made from jowar, bajra, or ragi flour).
Sabudana Khichadi: A popular dish made with sabudana (tapioca pearls), peanuts, and spices, usually consumed during fasting days.
Kande Pohe: A traditional breakfast dish made from flattened rice, known as "pohe," cooked with onions and potatoes.
Shrikhand: A sweet dish made from hung yogurt and flavored with saffron, cardamom, and nuts.
Kala Vatana Amti: A traditional Maharashtrian dish made from black peas and a variety of spices.
Bharli Vangi: A traditional dish made from stuffed brinjal cooked in a tomato-based gravy
Modak: A sweet dumpling made from rice flour and filled with sweet coconut, jaggery and nut filling, it is a traditional sweet from Maharashtra
I hope it surprises and delights you!
What type of accommodation will be provided during the trek?
You will return every night to a 4 star hotel. 
Please note you are responsible for any travel and health insurance, and this should include emergency evacuation, cancelation protection, add on excursions, as well as airfare to and from The Paro Airport.

Fill out your medical records

We are forever grateful to the individuals, companies, and businesses that believed in the strength and tenacity of women and support this challenge. Click here to see which organizations have sponsored us since 2016.
Pictures from our 2023 Journey
Women's Heritage Walks are a transformative global wellness experience celebrating strength, community, learning, cultural intelligence, leadership, and tolerance. It is rooted in the belief that we have within us the skills and knowledge to create the best versions of ourselves. These life-changing treks recreate ancestral walks taken by women across the globe and over the ages. We honor the past to envision a better future!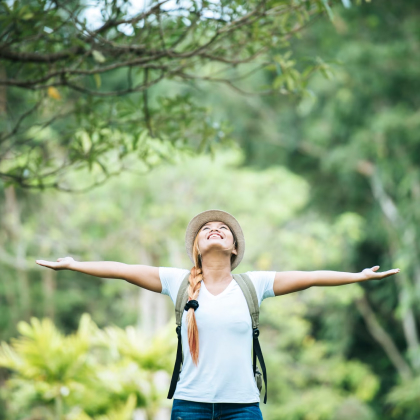 Manjiri Khandekar loves learning and has a degree in Ancient Indian Culture and History from St. Xavier's College, Mumbai, a Post-Graduate Diploma in Mass Communications from the Sophia Polytechnic, Mumbai, and a Master of Philosophy in French from the University of Pune.
A collaboration with the University of Lausanne, Switzerland, started her career at the University of Pune after authoring a textbook in French language acquisition. Her professional trajectory culminated two decades later with a project at the Montpellier University in France, where she presented two Marathi films subtitled into French with a team of students and teachers. She recently retired after twenty years of teaching French at the Master's level.
In May of 2007, Manjiri launched her own company: Heritage India Communications Pvt. Ltd. The focus is to create a heightened awareness of India's rich and vast heritage. In addition to scholarly publications, Heritage India organizes teacher and student workshops, quiz competitions, heritage tours, and multiple online courses on various aspects of Indian heritage for a global audience.
Punyakatha – Pune's Story of a Million Years, published by Manjiri in October 2021, is a children's book but serves as a family encyclopedia of the treasures of the region of Pune. As an Army wife, Manjiri has lived and traveled across different parts of India and became involved with the Women's Heritage Walk in July 2022 and is proud and excited to showcase her country in this unique Walk with women from across the globe.
Anuradha is the Admin and Accounts Head at Heritage India Communications Private Limited. She has been associated with the organization for over a decade and is very closely involved in the day-to-day activities of the organization.
She has completed a bachelor's degree in science and a bachelor's in journalism from Pune University.
Alongside her career, she has a keen interest and is involved in various philanthropic activities, as demonstrated by her association with the Rotary International Club Pune. Projects related to generating electricity in tribal areas and creating awareness about women's health, to name a few. She also helmed the position of the President of the Rotary Club of Pune, Sinhagad Road, during 2021 – 2022.
Vandana is responsible for digital marketing and assists with the operations of Heritage India. Being the wife of an Army Officer, life taught her multiple life lessons. She learned coping mechanisms when dealing with adverse situations, nurturing younger wives and families, and administration during challenging times. Vandana worked in the field of education for twenty-five years, during which she spent eight years as a school principal. She acquired skills in digital marketing at the age of fifty-nine and joined Heritage India to look after the company's digital marketing. She is keen to help the company scale greater heights in its mission to take India's rich heritage far & wide.
Namrata has been an integral part of Heritage India Communications Pvt. Ltd. from its inception, handling the marketing and distribution in the early years to handling the website and other digital aspects of the company, even as she moved to Canada.
Namrata has a Bachelor's from Fergusson College Pune in Economics and Université de Paris 2 in Mass Communications. She also has a Master's from École Supérieur de Publicité with Certification as a Manager of Communications agencies. She enjoys working with children and being an active part of the community. Alongside Heritage India, she enthusiastically volunteers at her children's school and is a part-time substitute teacher.
A mother of two active boys, in her free time, she tries to stay fit through dance and sports and explores places and cultures through books.
Heritage India Communications Pvt Ltd is a social enterprise with a difference. The aim of the organisation is to inform and educate and thus nurture pride in our national identity. The company was set up in 2007 with the primary aim of creating awareness about India's rich legacy, and we have been doing this through various media.

We have so far published 2 quarterly magazines–'Heritage India' (24 issues) for our company and 'Maharashtra Unlimited' (18 issues) for the Department of Tourism of Maharashtra, which has won the ICE (In-house communication excellence) award at the national level for 4 consecutive years; Coffee table books; conducted training workshops for teachers of History and Social Sciences, for trainers for guides for the Maharashtra Tourism Department and conducted quiz programs and excursions for school children. Heritage Tours across the country in company of experts is another of our specialized fields of activity. We create unique experiences through interactive trips to heritage sites.

The company has a three fold vision: 

Make all fellow Indians aware of our rich heritage and motivate them to become guardians of the same; give authentic information about this ancient land to all outsiders who are interested; and, carry forward our legacy to future generations.